01


Pollen is an editorial platform highlighting the emerging art, creativity, and culture in Chinese and Chinese American communities.
Pollen is an essential part of our life. The idea of pollen is sharing something small with the world and hoping it will lead to something beautiful – An Idea, a new perspective, or even a new way of looking at the world. Pollen was born from my frustration as a young Chinese creative, tired of seeing the same type of Chinese art and often having to do deep dives on the internet to find people I can relate to. Pollen offers a space for Chinese Creatives to exchange ideas and allows communities to form.


Branding Identity. Creative Direction. Motion Design. Typography.Ongoing.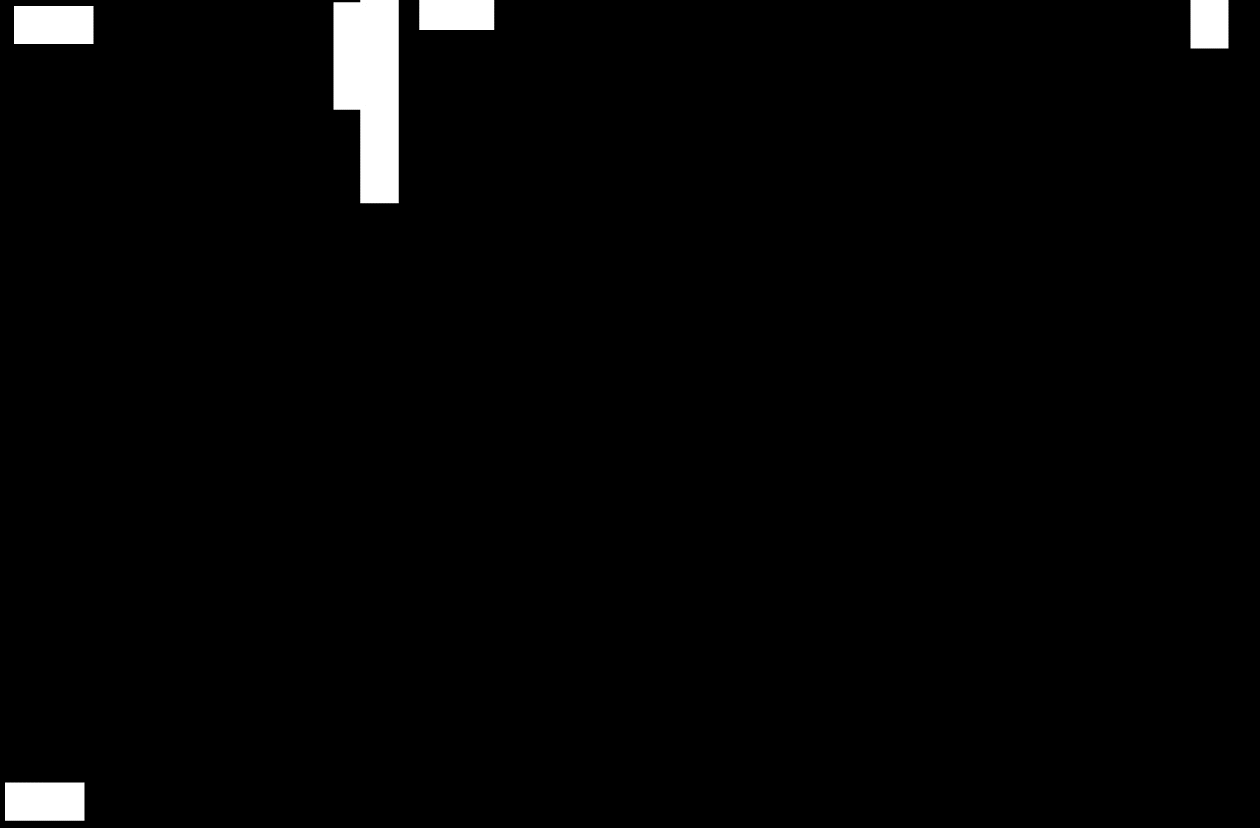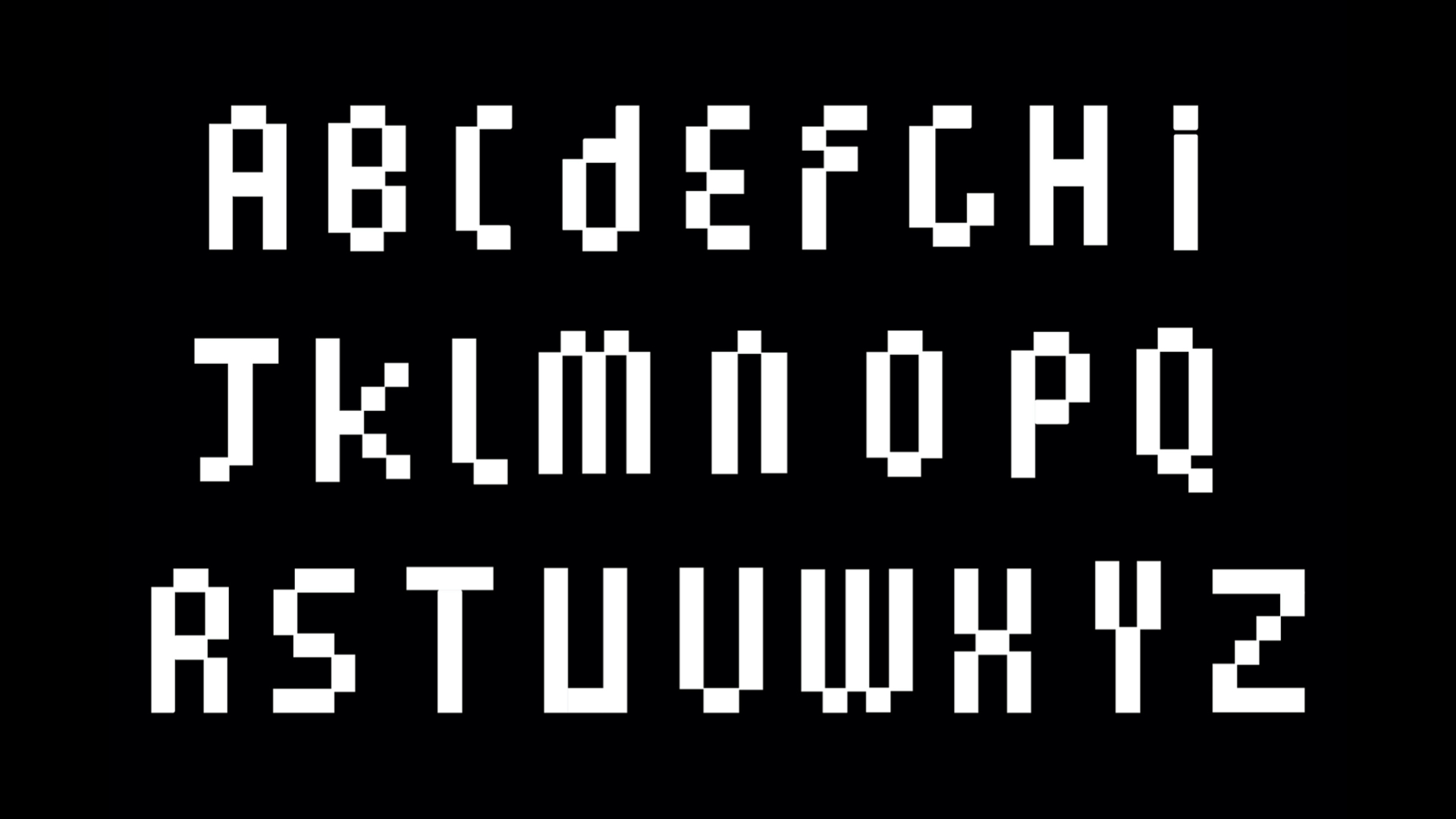 02


Hey sis world is an IRL pop-up and digital platform for the modern creative career womxn to sound off about problems, experiences, and feelings in a judgment-free zone. They approached me in 2019 to help them create an identity and their first digital event, "The art of the collab" campaign. I want to create something bright and uplifting in a way that carries a lot of energy but is still simple enough that makes sense for the viewer to understand.

Creative Direction: Kristel Brunshot Collaboration with: Brandon Braun

03

BMW China for the year of tiger.

Client BMW China
Creative Agency Real Good Studio
Creative Direction Jonah Gabriel
Art Direction Sam Hochman
Editing BRTHR
Music Tomás Tomás
Production Rosa Palmeri, Anne-Marie Halovanic
Featured Artists:Pablo Rochat, Conner Griffith, Christopher Rutledge, Loulou João, Alexandre Louvenaz,
Kensuke Koike, Mike Manor, Sarah Hopp, Tom Goulet, Danaé Gosset, Tina Nawrocki, Blunt Action, Nathan Motzko, Sam Hochman
2D Animation: Tom Goulet, Rachel Kim, Mackenzie Katz
3D Animation: Yasmin Islas, Rodrigo Hernández, Rachel Kim, Alexandre Louvenaz, Mackenzie Katz, Josh Burke,
Mikey Kelly, Subin Krishna, Danesh Taraporevala,
Design: Leah Maldonado, Zak Tebbal, Bingbing Zhang, Suzie Komza




04

"Dinner Table"
magazine is a collection of recipes from my grandpa and essays on asian family eating. Sharing a meal is one of the most important thing in my family and my childhood memory is always the whole family gathering around Grandpa's dinner table.
I want to share this with you along with my grandpa's spirit, hope you enjoy.
Might you eat well today and everyday.

Layout, Creative Direction, writing .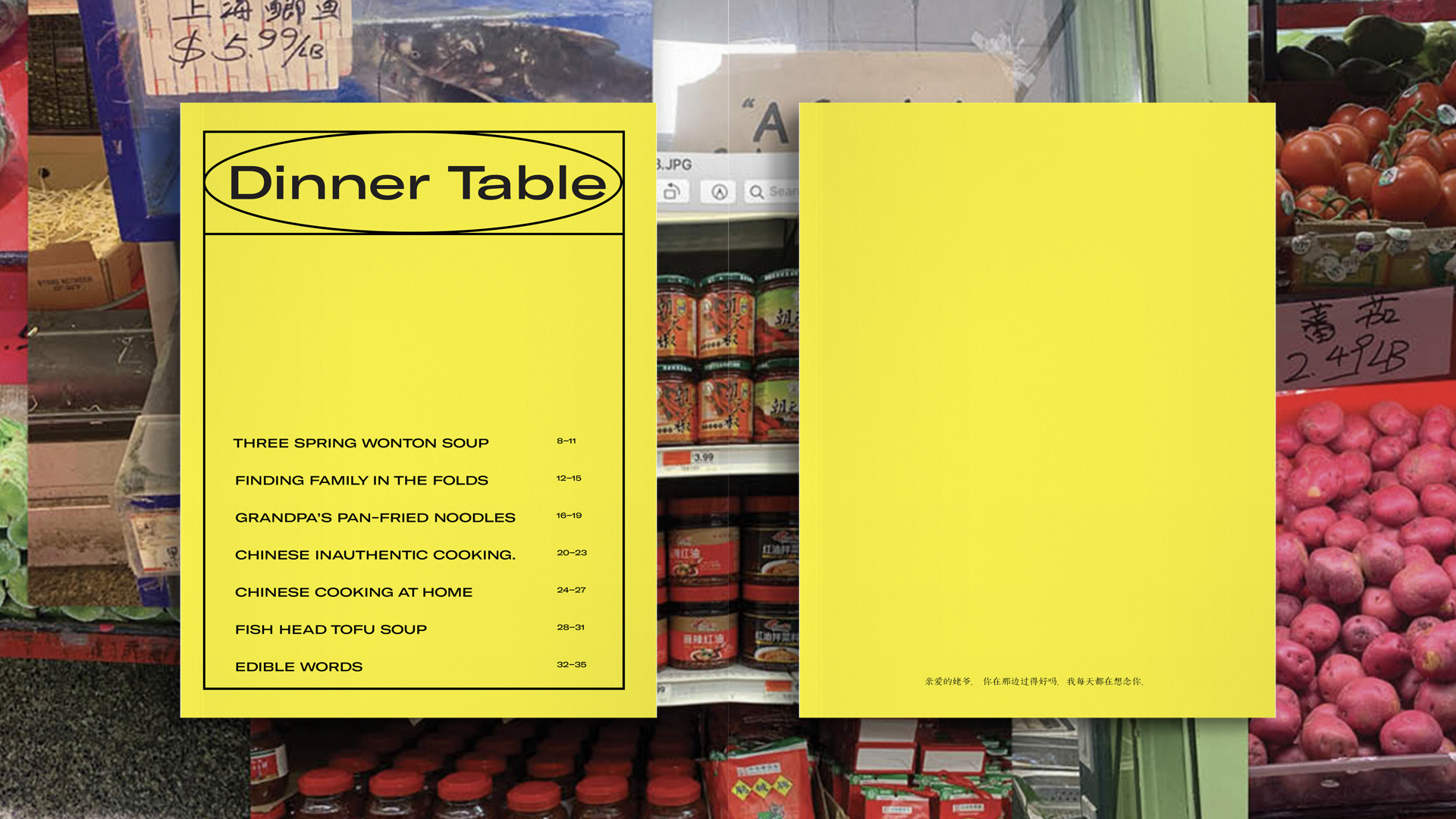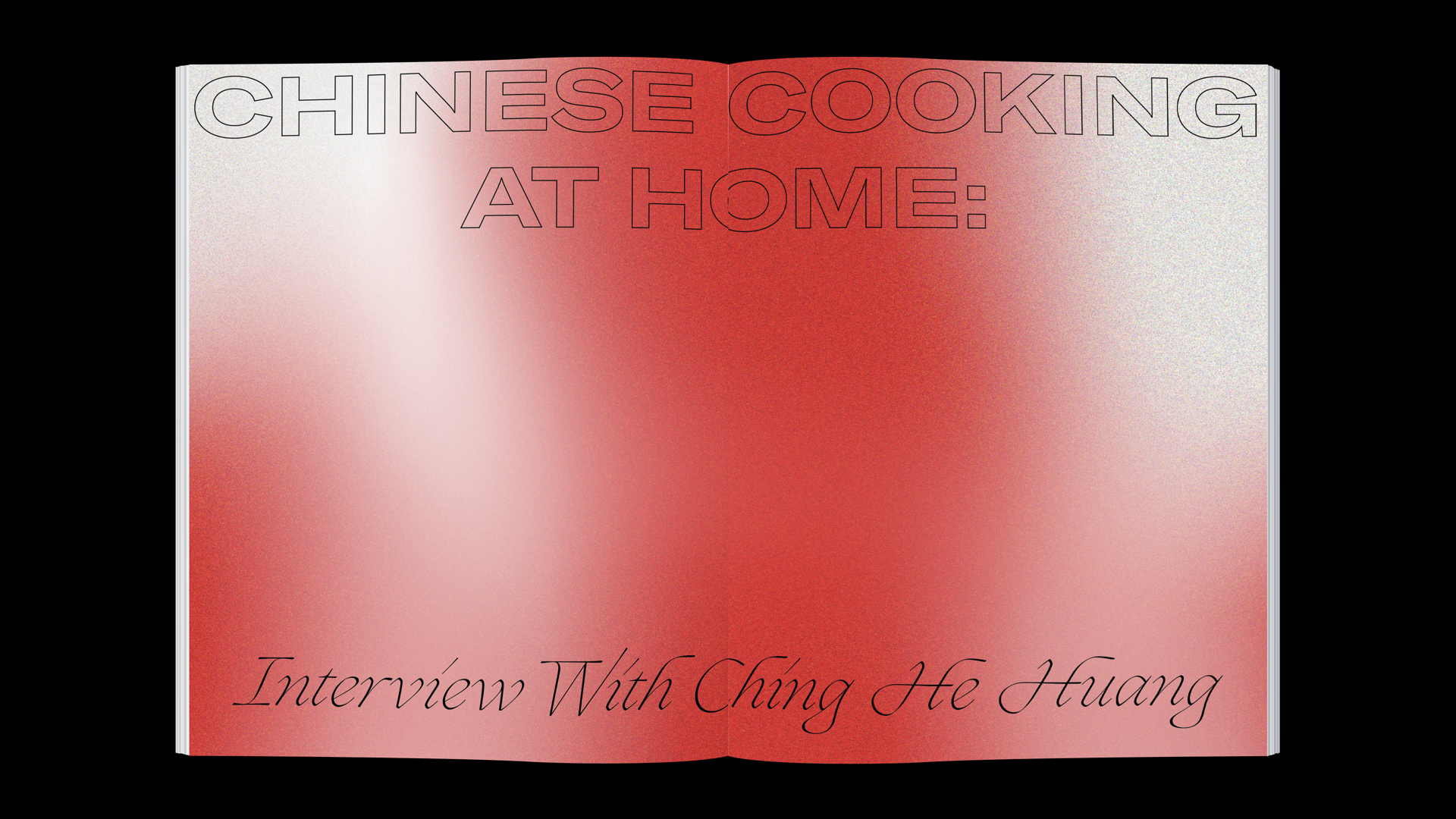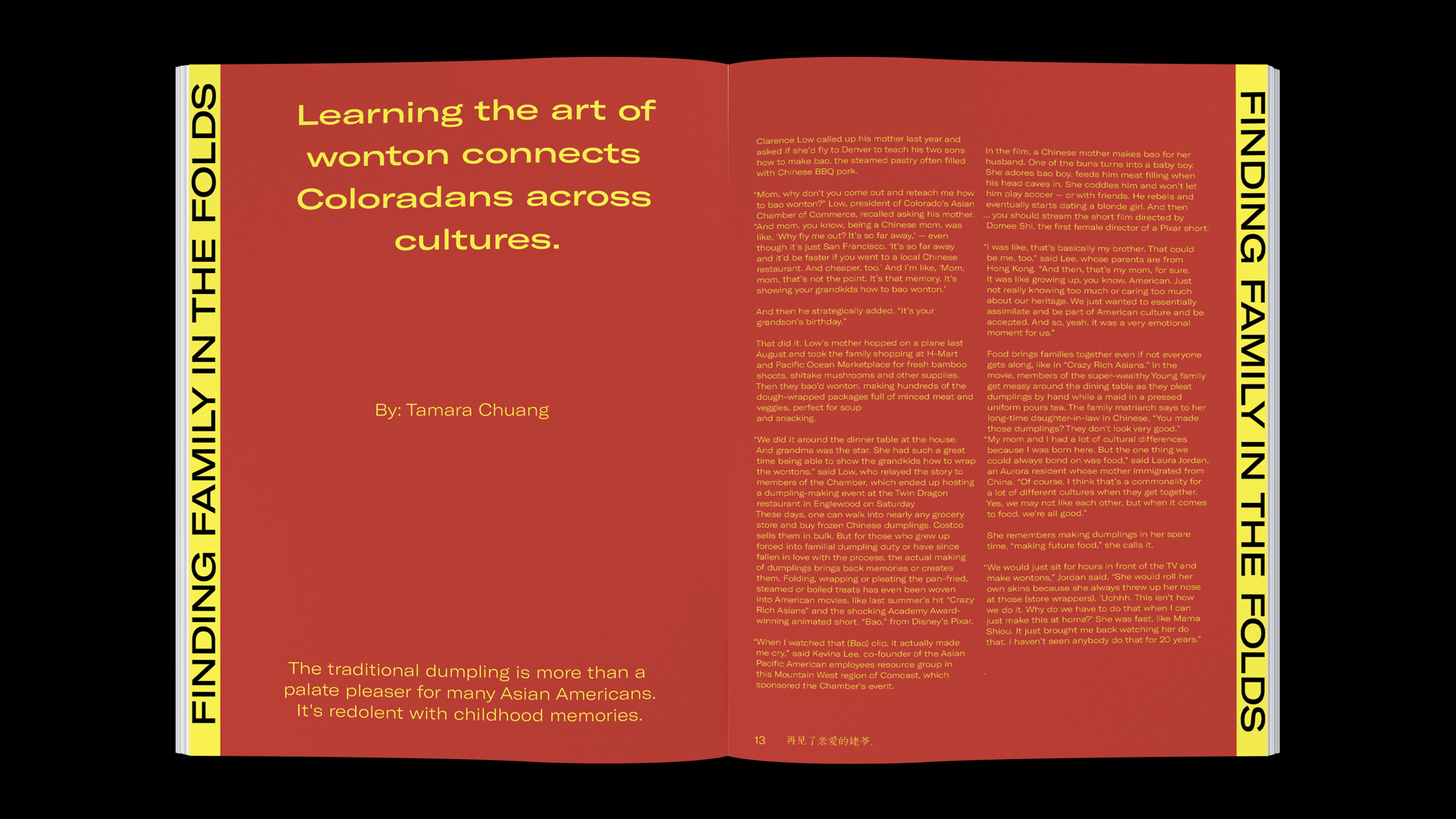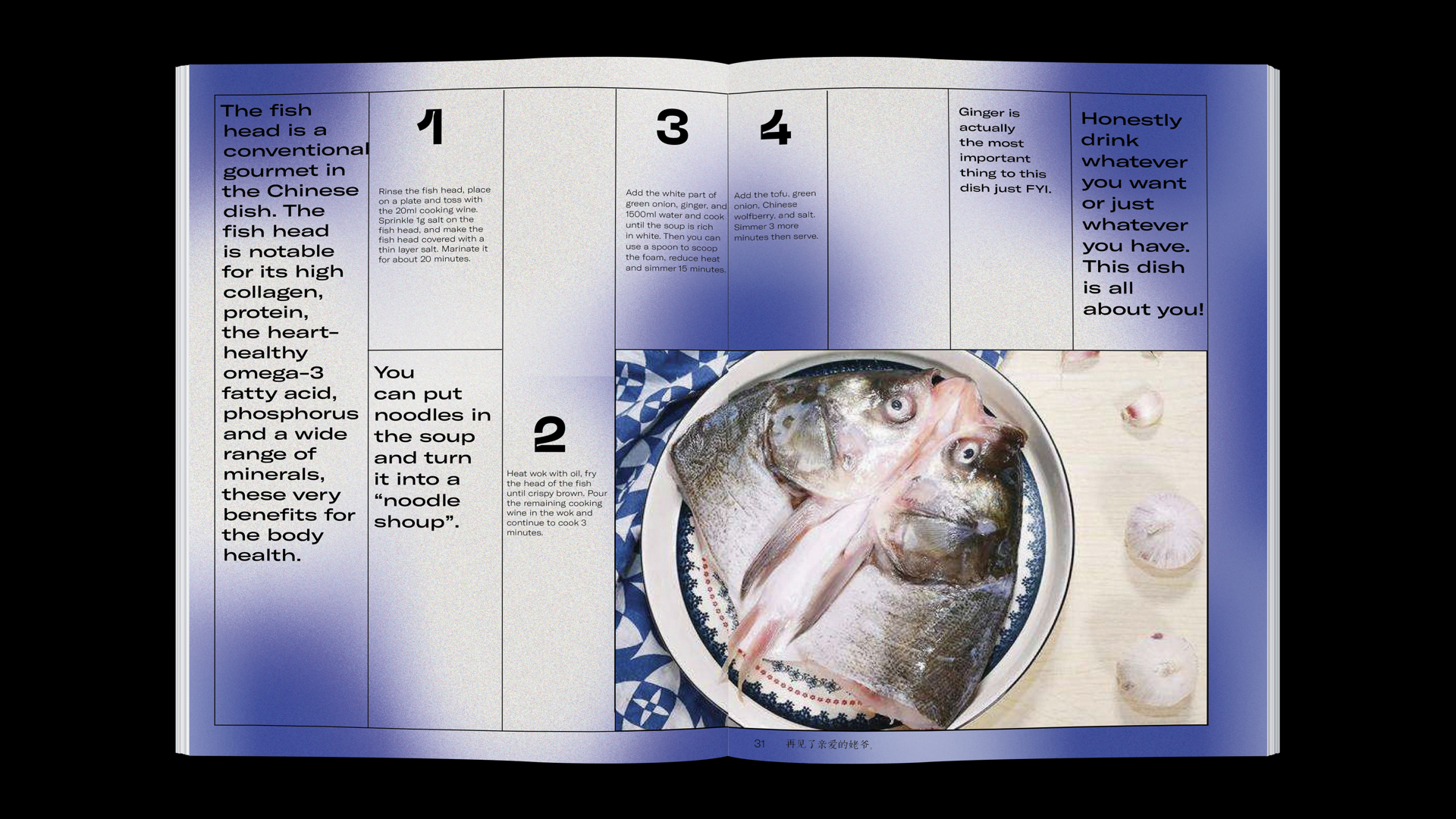 05

Adidas
Powerful women need versatile cloths. The mission of this project is to reflect real women's shopping patterns by integrating adidas' three separate women's lines (Performance, Athletics, and Originals) for the first time, across all adidas platforms, in retail, print, digital, and social.
Work with the team at
Red&Co Portland
Typography. Store Front Deisign. Social Media. Branding.